Moj-DMS je idealno rješenje za rad od kuće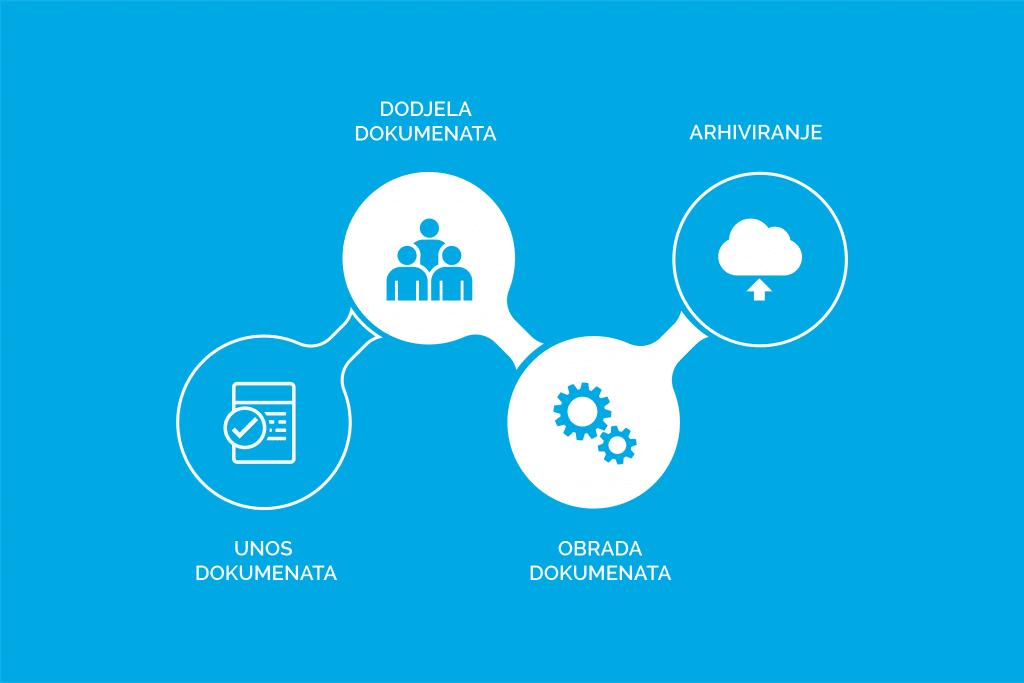 Elektronički dokument unesen u mojDMS sustav dostupan je za obradu svim za to ovlaštenim osobama te vanjskim partnerima, neovisno o njihovoj lokaciji.
MojDMS je informacijski sustav za upravljanje digitalnim dokumentima, povezan na servis mojeRačun. Kroz mojDMS možete digitalno obrađivati poslovne dokumente; potpisivati ih, likvidirati i odobravati te imati veći nadzor nad kolanjem poslovne dokumentacije i radnim procesima u tvrtki.
Aktivacijom usluge mojDMS stvarate preduvjet za potpuno bespapirno poslovanje jer je kroz sustav moguće obrađivati i dokumente koji su u tvrtku ušli kao papirnati dokumenti.
Unos dokumenata u mojDMS
Postoje dva načina prijenosa dokumenata u mojDMS: povlačenjem sa servisa mojeRačun i lokalno s računala (skenirani dokumenti, dokumenti pristigli e-mailom).
Kroz mojDMS moguće je upravljati svom poslovnom dokumentacijom: računima, drugim knjigovodstvenim ispravama (narudžbenicama, otpremnicama, primkama), ugovorima i drugom internom i eksternom poslovnom dokumentacijom.
Urudžbiranje kroz digitalnu pisarnicu
Svaki zaprimljeni dokument može se urudžbirati kroz digitalnu pisarnicu, nakon čega se pokreće preddefinirani hodogram postupanja dokumenta, ovisno o vrsti dokumenta. Sukladno hodogramu, elektronički dokument unesen u sustav dostupan je za obradu svim za to ovlaštenim osobama te vanjskim partnerima, primjerice knjigovodstvu, što znači da dokumente nije potrebno ispisivati i fizički nositi u računovodstveni servis.
MojDMS dolazi s četiri hodograma, odnosno preddefinirana poslovna proces kolanja digitalnog dokumenta koji se sastoje od procesnih koraka koji se uvijek ponavljaju na isti način. No, svaki korisnik može zatražiti i dobiti hodogram prilagođen svojim potrebama.
Zašto aktivirati uslugu mojDMS
MojDMS omogućuje potpuno digitalnu likvidaturu eRačuna i drugih eDokumenata, budući da Zakon o računovodstvu (čl. 10., st. 1.) propisuje da se računi čuvaju kao izvorni pisani dokument, što znači da eRačun zaprimate, obrađujete, likvidirate i čuvate u XML obliku.
Osim toga, svi ulazni dokumenti tvrtke su na jednom mjestu, a ovlaštenim korisnicima omogućen je lokalni i udaljen pristup, što je izvrsno rješenje za rad od kuće.
MojDMS osigurava maksimalnu automatizaciju administrativnih radnih procesa i veći nadzor nad poslovanjem. Usluga je integrirana s poslovnim i tehničkim aplikacijama, kao što su servis mojeRačun i različiti ERP i računovodstveni softveri.
Glavni atribut sustava mojDMS je protočnost – u sustavu se trebaju nalaziti isključivo dokumenti koji su trenutno u obradi. Nakon završetka obrade, dokumenti se pohranjuju u mojeArhiv.
Besplatnu prezentaciju mojDMS možete zatražiti OVDJE.
Autor: J.P.